Sunday
On Friday, reader Helen asked a pertinent question on Guilt. How can Christians demand forgiveness of a wrong that is still ongoing? (Apologies: this has turned into enough for two posts. I should have started yesterday. Sunday is always good news, and today's news.)
I gave much thought to forgiveness over those years – what it involves; how it feels; whether it wipes everything out – and we may return to it.
But Helen's question is particularly timely this week.
In principle, we can be called to unconditional forgiveness. African slaves on American cotton plantations had little enough alternative, and no hope of redress… in this life.
Our Lord forgave on the cross… an ill that was very much ongoing.
But Helen asked how we could be required to forgive by those allowing the wrong to continue? It would stick in the gullet, wouldn't it, if the slave-owners or executioners themselves preached the need for forgiveness?
(I've asked myself a related question in the writing of fiction. And am speaking on this in Cambridge on the evening of 5th December. How to portray evil? Do we create the cunning Iago, with no redeeming features at all? Or the far more murderous Othello and Shylock, whom we sympathise with much more?)
The fundamental challenge, as I see it, is this:
When I do wrong, I still have to live with myself. If I can't, the game is over. And the longer, deeper and more devastating the wrong I have done, the harder this is to do.
1. The easiest way is to argue the evil away. How did the Nazis do what they did? By telling themselves Jews are not really human, so it wasn't wrong. The same with Negro slaves. Or the disabled or homeless or mentally ill, or any abused group. (Some might even say, unborn children.)
We are on the same spectrum when we argue anything from our own point of view. Last time you had an quarrel, did it go:
"I was really unkind to you last night."
"Well actually it was my fault, for being rude."
"Yes but that's because I belittled your mother first"?
Much more likely the other way around.
So bear in mind, regarding our homelessness, I am giving my side of the story. To many in the church, I don't suppose there was a wrong at all.
a) The vast majority probably didn't know. I've said before that in a church of many hundred you become a customer, to be served; not a family member, to own.
Shaun was allocated half a vestry as his study. After August 2005 this also had to house the clothes, books and musical instruments we'd brought from London for our few months in rented accommodation... before that ran out. A member of the church called to see him, and found him eventually, at his hidden-away desk, through a narrow path between cardboard boxes piled seven foot high and far more deep.
"Gosh," his visitor said, astonished. "This is real, isn't it?"
b) The minority with responsibility on the (far-too-big) PCC presumably thought someone else was solving it. They must be. They couldn't just have voted for us to be actually homeless, could they? One went home to her husband – a truly kind couple, who helped us hugely later – who asked her, "But where are the Atkinses going to live?"
"I don't know," she said. "I wondered that..."
c) And the tiny few who knew exactly what they were doing? They told themselves it wasn't wrong. We were to blame.
If you remember, we were persuaded – our hearts in our mouths – to tell the PCC, if they bought the house I knew I couldn't cope with (so much so, that all I could think of was to leave my family and go home to my parents'), that Shaun would look for other work. Anything less was irresponsible. So the purchase was aborted.
Which was interpreted as our refusing accommodation, and choosing to be homeless.
And that's how it was (eventually) told to the many.
So from one point of view, there was no wrong ongoing. It was my fault for being difficult. I reaped my deserts.
(Jumping ahead a bit, my response – avoiding the vicar, the church, even the city I once loved as much as my home town of Cambridge, where Shaun and I met and fell in love; which I even now stay away from as much as I can – must have seemed the result of resentment or anger: the remedy, forgiveness. It wasn't at all: it was the result of trauma; the only way I knew to keep going.)
I never quite worked out how my children deserved it too.
But this I did know. The vicar was a sportsman. He liked to win. I wasn't doing as I was told. I could see as well as the next man that by far the most effective way to beat me was through my children.
2. There is another way, however, to live with the wrongs we have done. Much tougher, more painful and daunting.
Bink is currently on the Priory's Addiction Treatment Programme.
Last Wednesday she was allowed two guests for the Families' Day, and invited Shaun and me.
I can't tell you about the sessions, because they were confidential. I can tell you the procedure, because we were told this in advance. We were each required to write our own "Consequences Letter" telling our loved one what effect her addiction has had on us.
We were to pull no punches and spare no feelings.
This would be read out to the addressee, face to face, in a circle of others.
We were allowed one page, and twenty minutes to write. I described Bink's addiction to destructive thinking, mostly around washing, and what it has done to us. I pulled no punches.
I can also tell you Bink's reaction, because she has given me permission to write anything about her treatment.
She was devastated. Distraught. So much that I cry now, thinking of her, broken and wretched at what she has done. Or her illness has done through her.
The addict is allowed to respond. She couldn't. For minutes she had no words, she was sobbing so, until coaxed by the therapist.
It hurt to have hurt her so much, and I feared she'd wish she hadn't invited us. At tea afterwards I asked if the session had been helpful.
"Oh yes," she said. "Very."
That is courage. That is facing up to wrongs done. That is the honest way to live with our true selves.
To say: "I've done it. I own it." And eventually, "I repent of it."
Now, its being Sunday, here is Horatio with a banana.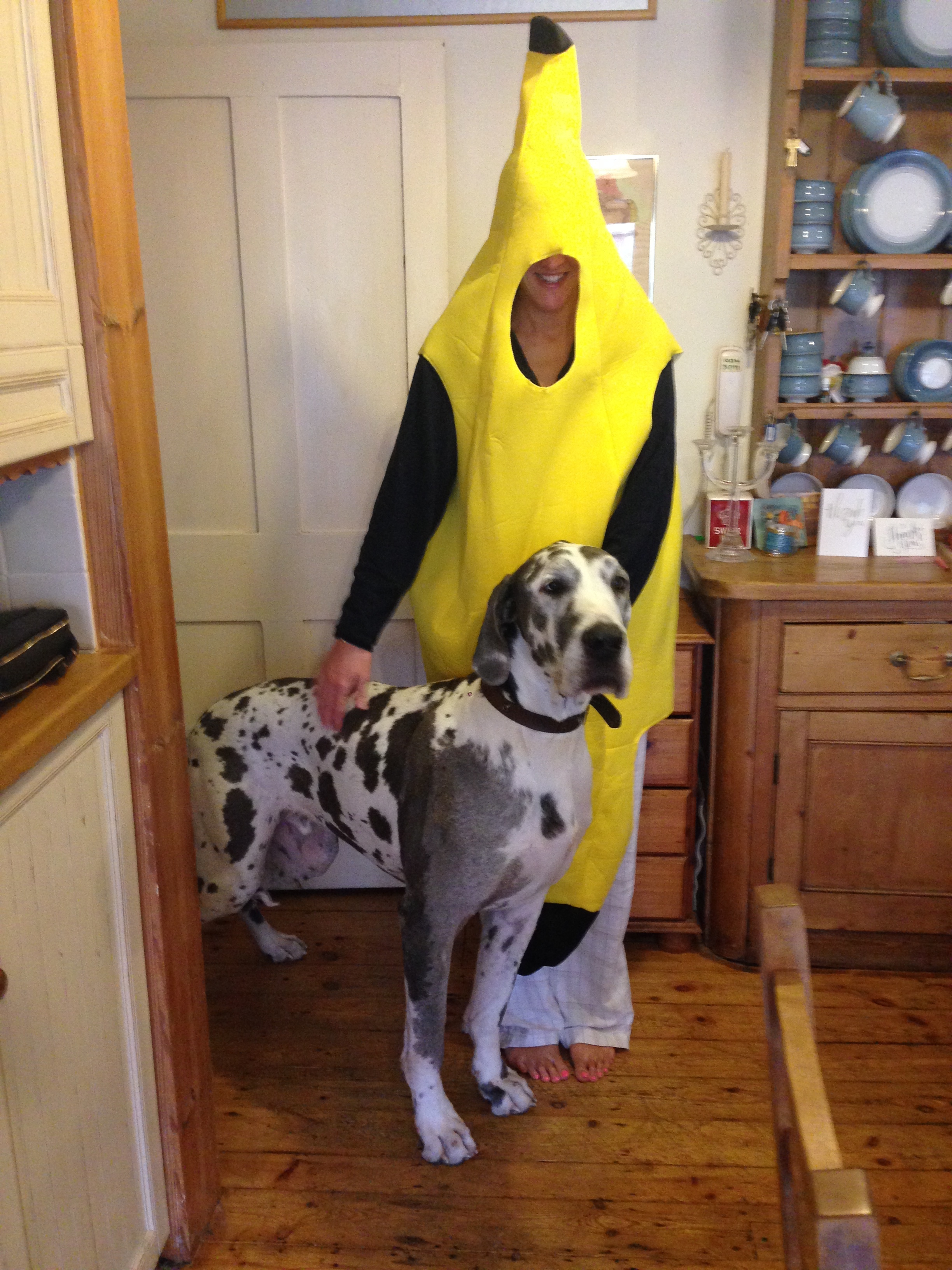 Every Sunday I give you colour photographs I've taken myself. There had to come a time when the link would be tenuous...
Now that Shaun has left his job and until he has another, our only income is letting out our home. We are very popular with hen parties. Horatio loves them, and flirts with all the girls.
One bride (a six foot doctor) was a yellow duck all weekend. This morning, Shaun came back from his shower having just bumped into a banana.
Facing her dæmons as she is, why shouldn't Bink be well? Once well, why shouldn't she fall in love? In love, why shouldn't she have a hen party all of her own?
And dress as a banana…