First Sunday in Advent.
I realise, of course I do, that Advent is about something far bigger than my little concerns.
None the less one of the things I love about the God I do love – as I understand it, anyway: given His attitude to little children, for instance – is that He cares about little things, just a bit, too.
(True, He often doesn't seem to answer my little prayers. Correction: He almost never seems to. In any meaningful timeframe. To me. I expect I'll understand this one day. When The Days are finally Come.)
Anyway, Advent is about waiting. And hoping. And being without Someone for a while.
A few Sundays back, I mentioned how good it can be not to hear news of a loved one.
Today I am reminded how good it is to be without someone, too.
(Here's a guilty secret. We're supposed to pray for the Lord to return quickly, right? I'm afraid I don't. I hope He'll take a really, really long time about it. For all that it's a Vale of Tears down here, I'm very fond of this old world, and I'll be extremely sad to see it go.
When I was little, my mother tidied up my toy-cupboard, and threw away my awful bashed up dog-eared old Wobbly Man that had seen so many better days. I'm guessing it must been made of seriously heavy-duty papier-mâché, because it had that frayed, exhausted look only bio-degradable substances can do.
When I turned my cupboard inside-out looking for it and asked her where it had gone, she realised her mistake, apologised and bought me a brand new one. In shiny bright plastic.
I appreciated her love and kindness a lot more than that horrid new Wobbly Man.
I do know the New Heaven and New Earth isn't going to be made of shiny new plastic. And I do know it will be better than this earth, really. Theoretically. I'm just not good at adjustment and moving on when I love something already... Apart from anything else, there's going to be no marriage in the New Creation. How can that be any fun, eh?
I can't help wondering whether He's really thought this through...)
Anyway, Bink's therapist rang a few days ago. I hadn't spoken to Bink in ten days, the longest since she'd gone into the Priory.
Today, we are giving my father a small lunch party to celebrate his 101st birthday. Bink is invited, of course, and has now finished the bootcamp programme so technically could come home. But had already told me she didn't think it would be wise.
Her therapist said, moreover, that it might be better if Bink didn't come home for Christmas, either. That Bink herself had said so. And how impressed she was – they all are – that Bink is so committed to the programme, and how she has thrown herself into it with such complete dedication.
Which they have told us a number of times already.
(And which I could have told them she would, if anyone had offered her any treatment any time this last twenty years.)
"A lot of our patients," the therapist continued, "know they've put their families through so much already, they decide they owe it to them to go home for Christmas. And it's too soon and they fall off the wagon and lose it all..."
"Listen," I said. "We've been without Bink for nearly two decades. Don't you think we'd rather have another Christmas without her, to see the real Bink back?"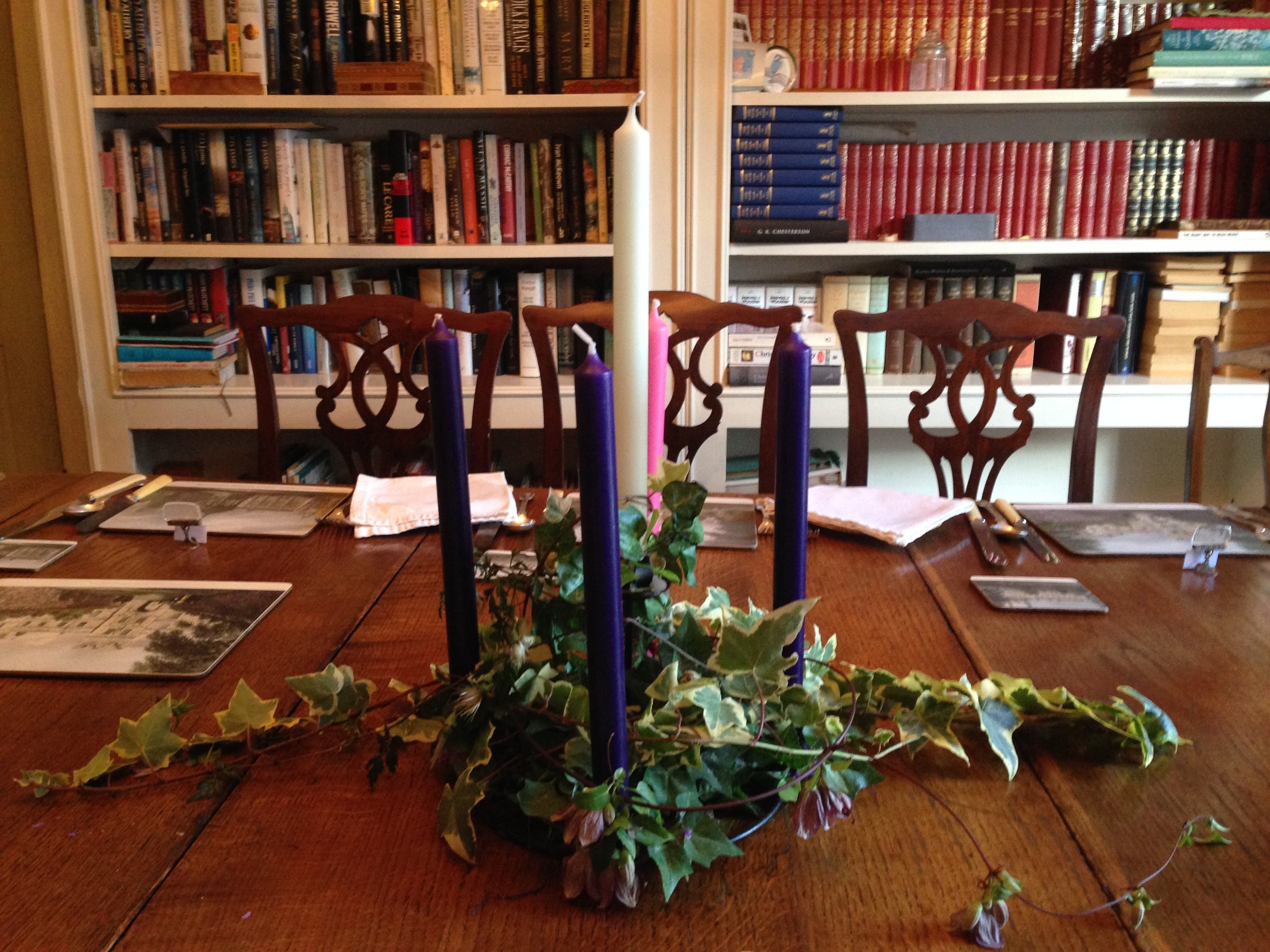 Last week, if you remember, I was looking forward to raising a glass of champagne with our wonderful, generous, exuberant friend Joanna who insisted on throwing a party to celebrate my new novel.
Now here's a funny thing. Joanna gave the most wonderful party for me. She invited her friends and ours. She filled her fabulous Manor House with lovely people, just to raise a toast to my finally putting pen to paper again.
I went into the kitchen at the start of the evening, was offered a drink, and realised I was very slightly disappointed. There were no bubbles in the glass. I shrugged it off, deliriously happy as I was to be there anyway.
At the end of the evening when all the guests had gone and we sat relaxing in our pyjamas, I felt the same tiny little pang. I couldn't suggest we open the bottle we'd brought Joanna as a present: that would be really rude. Then her husband came in with the whisky and we enjoyed that instead.
The next morning we drank gallons of tea, and every time I opened any of Joanna's three fridges, row upon row upon row of foil-wrapped corks winked at me, and I sort of vaguely clocked that Joanna is still Joanna, and all her fridges are full of champagne so the sun has his hat on and all's right with the world.
The really funny thing is that Serena went through all these thought processes, exactly the same as I did: very slight disappointment at no bubbles; deep shame at being so spoilt that she even had the thought; reassurance at noticing that Joanna's fridge has all the right bottles in it anyway.
That evening, after we'd all got home, Joanna rang, hooting with self-deprecating laughter, having forgotten all the bottles of bubbly which she'd specially emptied all her fridges for three days earlier and lugged up from the cellar so they were lovely and properly chilled.
"Ah. We assumed that was your normal stock," I explained.
"What?!" she said. "Don't you think we eat anything?"
"Not really, no." On her own frequent admission, Joanna is a lousy cook. "Why would you need food, if your fridge is full of champagne?"
There is a theological point to all this...
Advent is all about looking forward. See?
Not only have we now had five days' laughter instead of champagne.
We also have a perfect excuse to go back and see Joanna again (perhaps even with Bink, one day soon?) and put all her stock to rights.