November 2001
"Why don't you name the shrink, in your blog?" Ben asked. We were out for supper with friends last Saturday night.
(This is a watershed. My family never reads what I write, listens to what I broadcast or watches me on the box. Apparently, because I never tell them when I'm on... though my father takes the trouble to ask.)
"Can't be bothered," I said.
"With what?"
"Oh, you know: law suits."
"I can," Bink interjects. "And I want you to give Robin's full name, too." (Robin was her abusive therapist: she's been wanting me to sue or at least expose him for a decade and a half. You're welcome to it, Bink.)
I've been through all that. A few years ago, after I was told fifteen years too late that we'd been lied to about not being able to take Bink out of the Florence Nightingale Unit, I spent an afternoon on the telephone to a lawyer friend-of-a-friend. Mostly to rule it out.
All the important cause-and-effects are impossible to prove, aren't they? I gave you my life and soul because you told me you loved me that Monday morning before the spring blossom had even begun to fall. You abandoned the career you'd dreamt of because of a question your mentor asked you when you were sixteen.
Bink lost over half her life (so far) because of what they did to her in the Unit. I know it. She knows it. You can't prove poetry in court.
After an hour or two of this, I asked the lawyer what he would do.
"If she were my daughter? I'd drop it." So I did.
It wouldn't bring the years back, would it?
While Bink was in the Unit, I pinned all hope on one small and precious kernel. She adamantly refused to swallow anything from their chemical Goblin Market.
Bink says one of the most frustrating things about me is the way I know things without knowing how. That she, of all people, would be liable to extreme cannabis-damage. That the friend she lived with after university would wreck her life and turn her against her family.
Both, long before there was any evidence – that anyone else could see, anyway.
That drugs would destroy her.
I knew passionately, with every bone in my body and hair on my head and cell in whatever it is cells reside in, that she mustn't take the meds. The therapy was unhelpful and being taken out of school was worse, but as long as she put nothing untoward in her mouth, as long as the battering barrage stayed in the mind, she would be relatively safe.
And however angry Bink might appear superficially, it seemed that she agreed with me: that she knew, as well as I did, the answer to her pain did not lie in anaesthetising it. For all Bink's looniness, she has always retained a core of solid gold discernment. As if, deep down in the rock bed heart of her, she isn't loony at all. Twice in her life, in her early twenties and early thirties, a respectable, well-educated-and-earning man has asked her to marry him. (A different one each time: we're not talking Jay Gatsby.) Each persistent. Each besotted. Each eligible. Each a tempting immediate meal-ticket-free-carer. And each a long-term screaming disaster. Given how vulnerable she was each time, I am impressed at the certainty which she repeatedly refused.
And of course she has not, demonstrably, despite numerous crises, killed herself. I believe Bink's soul means to survive.
So it was then. Week after week, the hospital complained that she wouldn't take her pills. Week after week, despite my gnawing anxiety, my heart sang. Good on ya, Bink: stay strong!
Something I have learnt, to my cost, several times over the last twenty years, is that none of us is invincible. Every last one of us can be broken, under a sufficient load. Underneath the spreading chestnut tree I sold you and you sold me.
She was just sixteen, away from home, unable to sleep, denied fresh air and exercise, barely eating, her immediate peers almost all abuse victims, the adults united in putting relentless pressure on her. Just take this little pill: it will give you oblivion till morning.
She held out and held out and held out, week after week after week... until the day that she didn't.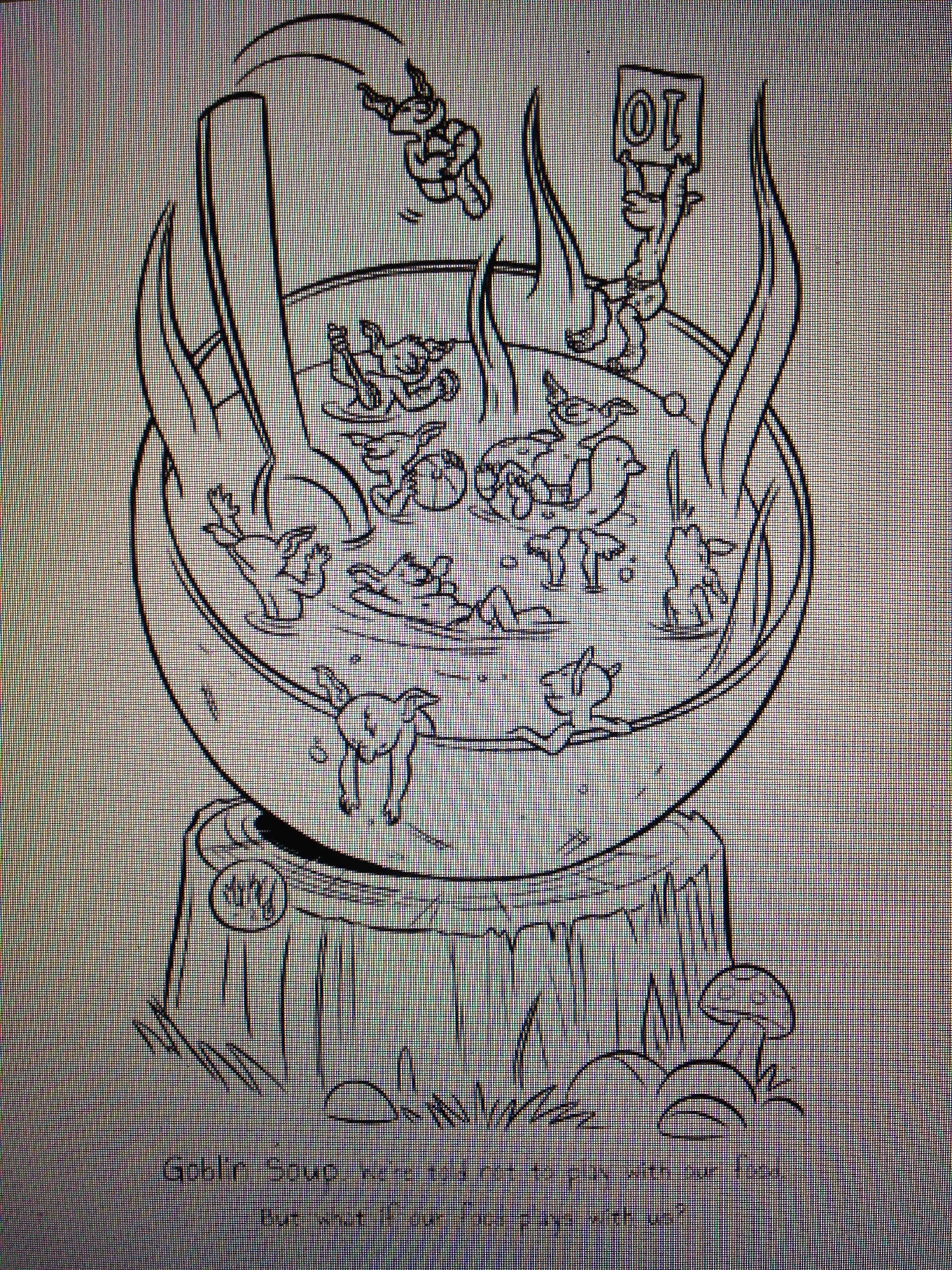 A few years ago I was guest speaker for a charity lunch and seated next to the president of the Royal College of Psychiatrists. I asked whether medication given to a mid-teenager could cause permanent damage to the brain. At least I got an honest answer.
"Nobody knows. There is no ethical way of conducting studies."
And yet it is ethical to administer without knowing? Or was Bink the ongoing study?
I have often marvelled at folklore telling of Bink's plight long before she was born. When Snow White bit on the apple... when Eve tasted the fruit... when Laura gave in to the pinching, pestering goblins and put the sweet poison in her mouth.
My heart was lead. Almost as if I knew that the evil little pill Bink agreed to take that first fatal night could still be the cause of her problems seventeen years later.
Oh, my prophetic soul!