Sunday
When I was young, I think I sort of believed great works of art existed in perpetuity, almost before the creation of the world.
As if Lear and Hamlet and Othello were already complete, down to the last exquisite word and phrase and well-known quote, while Shakespeare was still in the womb; like the eggs in a foetus's ovaries.
I suppose you could see it as a kind of idolatry: my enthusiastic adolescent soul's passion for beauty.
My friend Francis Grier, organist and now composer, when he was still a teenage organ scholar at King's Cambridge and I looked up to him as a demi-god, told me he believed Bach never put a note wrong: if you changed one semi-quaver, you would diminish the whole.
"But Frank," I said, "I feel exactly the same about Shakespeare. Every word..." So, he agreed, we were quits.
As if such great works are so perfect, it is inconceivable that they could ever have been different, even in the slightest degree.
Which means, if you nudge the idea a bit further, that Mozart could never have lived another day. If he had, such wonders would have ensued from his pen, so magnificent, so world-changing and breathtakingly beautiful, it's impossible they could have remained unwritten and not had their intended existence.
Which in turn must mean he was destined to die when he did.
I suppose I began to question this as I watched my own creative process.
If Shakespeare's works were predestined, it seems logical that Vaughan Williams' were. And if his, why not his friend my grandfather's much more humble compositions?
And if my grandfather's, why not mine?
But if mine were predestined...?
That walk I took, when I happened across that astonishing, shockingly vibrant bluebell wood which inspired a scene in my second novel, On Our Own... If I hadn't chanced to go for a walk that day and take the path which led that way, I would never have written the passage.
I surely would have written the scene in a completely different way? If I hadn't gone on the vicars' wives' conference from which I was taking the walk, I might not have written it at all, perhaps?
And yet there is still part of me which can't imagine a world without Bach's Double Violin Concerto, or Sonnet 33... even though I realise Sonnet 33, with its so sad pun on sun and son, couldn't have been written if Shakespeare's own son Hamnet hadn't died.
Which leads me to a similar feeling about people's lives...
My grandmother lived to 84. So, ever since, I've thought of her as having been destined to live to 84. That was her allotted lifespan.
But that doesn't feel so true any more, because I have saved my father's life so often. If he hadn't come to live with us, he would have died shortly after my mother did. in his early nineties.
Friday night, for instance. Two nights ago.
If I'd been with my friend Helen, in Tate Britain as originally planned, I wouldn't have been at home to insist the doctor came to the house. My father's carer had simply asked for a telephone call.
And if the doctor hadn't come to the house... indeed, if Shaun and I hadn't stopped with him and talked to him for so long, so that he noticed my father's oxygen level dropping from 95 to 89 when he measured it again ten minutes later...
Well, my father would be dead now.
This, and several other very similar instances over the last nearly decade since my parents came to live with us and I've saved my father's life several times, mean that I now know, for a near certainty, that if I'd cancelled work that day nine and a half years ago, when my mother got an ear infection, so that I'd been at home to back Serena up when she called the ambulance and my father overruled her... things would have been very different.
In which case my mother wasn't necessarily destined to live to 91, but would have lived to 92, perhaps 93, and there would now be three cards from the Queen framed in my father's bedroom instead of two.
One would have been for my parents' Platinum Wedding, which we all would have celebrated together in our new home in a first glorious summer.
My mother might have lived longer than Serena's dog, Hamlet. (Who might not have died aged ten, but might have reached eleven if Serena hadn't just had such a large vet's bill for a litter of sickly kittens, and not had any money left.)
And so it goes.
And what does all this make of Bink's pain? If it wasn't inevitable?
If Bink wasn't necessarily going to be ill till her early thirties... For instance if we hadn't let her go into hospital when she was 16...
If, if, if...
Then there might be the novels she hasn't written or concerti she hasn't played or paintings her childhood talent seemed so generously to promise.
And I suppose ultimately what this means, what it makes of Bink's hurt and loss and struggle and all the wonderful and beautiful things she hasn't yet done, is that God sees a bigger plan. It means that somehow – though I can't really understand how, given the trouble He puts into creating exquisite things Himself – He doesn't rate Hamlet or Paradise Lost as highly as I do.
Or rather He rates other things even higher.
Such as Bink's eternal soul.
Perhaps He was quite happy for my mother to join Him before we wanted her to. Perhaps He wasn't that bothered about a third card from the Queen. Nor (more to the point) our longing for her to be with us a little longer. And our pain that she wasn't.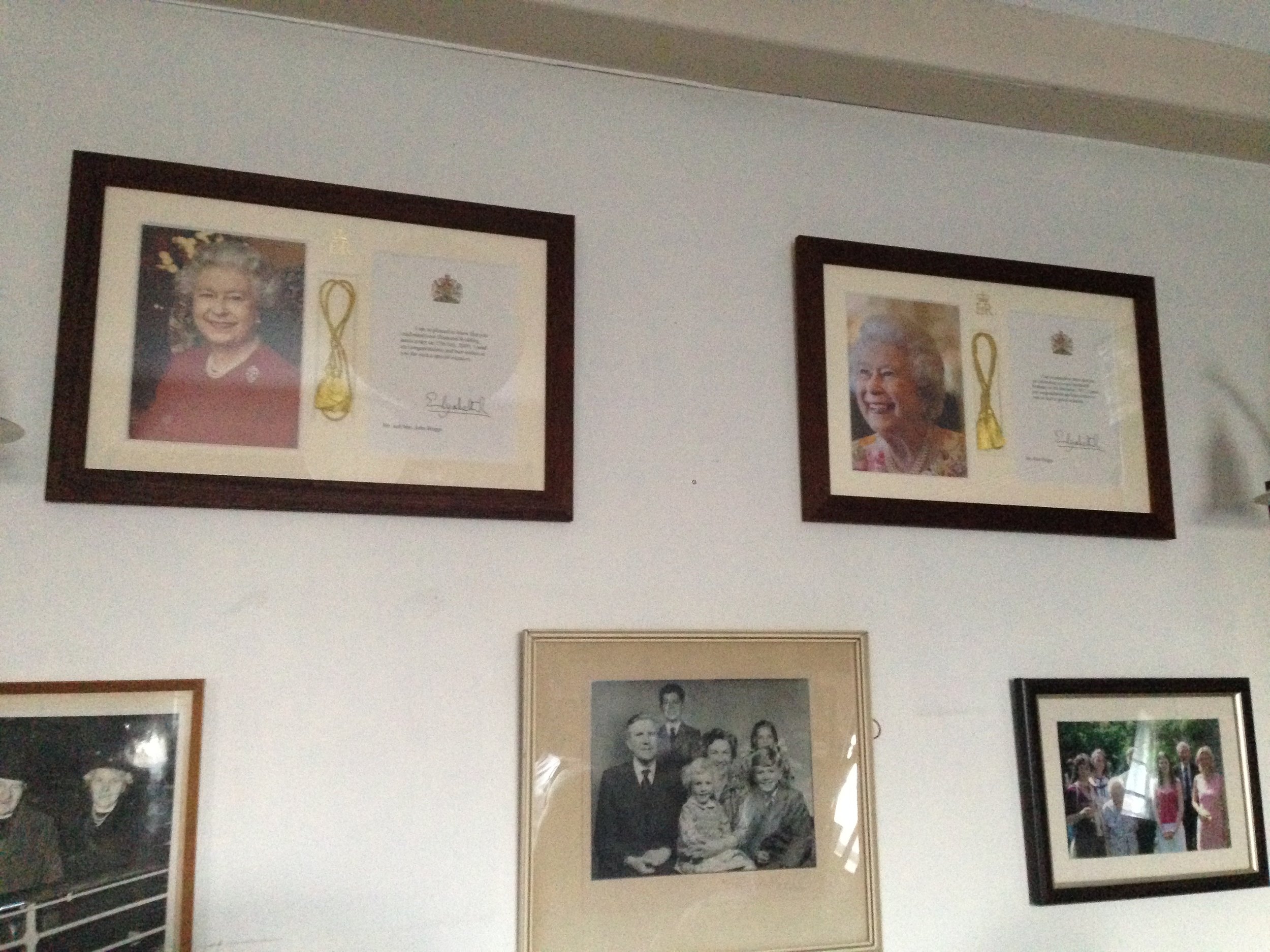 Be that as it may, I'm doing all I can to save my father's life.
He'll be back from hospital in a day or two. He has to be. We haven't yet quite finished Æneas IV together, and read of Dido's dramatic death.
(And of course, if Virgil had been born a woman or a slave, we wouldn't have had any of his so beautifully predestined work anyway.)