Mothering Sunday
Christian invited us a good couple of months ago.

With Serena's authority, I passed the invitation on to Bink soon afterwards. I'm pretty sure she said she'd like to join us. What's not to like? Christian's cooking, Serena's welcome, Alex's jokes, the little Viking's antics.
I shouldn't have tried. I really, really shouldn't. Hours on train time-tables and trying to coordinate with Shaun's preaching and Ben's car and trying to work out paid lifts... and never, never, almost never being able to talk to her.
Do you want to come, Bink? What happens when you do something regardless of your feelings? Well, to be kind to someone, say? Of course it would. Well, it would be kind to me, for one thing; and polite to Serena. I'm not wanting to put pressure on: I agree, that doesn't help. Just asking questions and interested in your answers because you just said you are ill and that makes me so sad, so very sad, so very, very, very sad... and I'm not even talking to Bink any more but I want to tell her, it's not nearly as sad as when you were living with Gatsby and thought you were well. And you really, really weren't.
But it's sad, nonetheless. If she wants to do something, and can't.
Though... yes indeed... not nearly as sad as not wanting anything.

The first time Serena took me to her church was on a Mothering Sunday. I wasn't expecting it – I had offered to take the dog for a walk (no mean task, believe me: Serena has a very beautiful and utterly psychopathic dog; Serena's dog is more nuts than Bink) until I realised quite how much it would mean to her. Well, until she asked me to come, to be precise.
And I then punished her by spending the rest of the day in tears. In the middle of Mothering Sunday lunch, I kept saying, How could they do that to us?
(The church in Oxford.)
I can do it now. If I prepare very well. I've been to the church a number of times now. And it's fine. Enjoyable even.
It's called Exposure. In OCD shrink-speak.

I got here yesterday, in Ben's car, and took a picnic and the little Viking to the allotment where Serena and Alex were digging in the sun. Well, Serena was digging. And Alex was... pottering about. In that Alex way.
Ben came by bike. All eighty or ninety miles of it.
Shaun is coming by train after preaching this morning.
And Rose? Rose is fifteen.
Is Sunday really Mothering Sunday oh no really I was going to do you the best Mothering Sunday in the country really I was honestly breakfast in bed and everything I know you don't like breakfast in bed but at least it would have been a surprise well not a surprise now obviously but a surprise when you came down and found the kitchen burnt down because you know how useless I am do you think Dad would drive me to this party?
It's my friend's brother's eighteenth and really quite posh...
So Rose isn't with us, obviously.
Nor is my father. He simply isn't mobile enough any more. But even my father… well, a hundred and one is quite impressive really and every year he is nearer heaven and my mother.
Here are the flowers I left with Shaun, to put on my mother's grave. He had to do it for me because the Garden of Rest is locked all the time, now...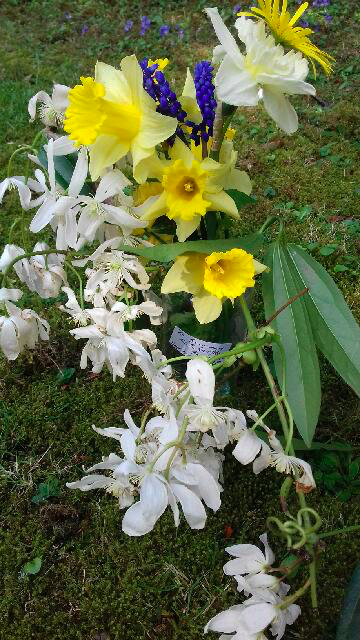 Whereas the flowers at the top are the ones I picked for Serena, when Ben's car broke down so I had a two-hour wait and had to do my Sky interview from home instead of Serena's house.
The clematis filled the car with the smell of almond blossom, all the way here...
And Bink?
Bink won't be with us. I pray she will but know she won't.
Perhaps next year.
Perhaps one year, a little person will take Bink daffodils in the pew.
You have to pray, even when you can't believe.