Sunday
This is Bay Dat. Otherwise known as Araminta.
Bay Dat was born in our bed at two am on 14th May. When we were asleep in it. That is to day, Shaun was asleep in it. I wasn't very asleep by the time my cat, Sophie Afternoon otherwise known as Artemis, shoved a squealing grey blob in my face and said, Look what I just did. (Yes, just the one: what's wrong with that?)
Some years ago, Rose was promised a kitten when she got into senior school. She is just about to embark on A levels. There are some presents – some apologies; some offers of help – that come so late they are meaningless.
The Little Viking would love to have Bay Dat for himself. Bay Dat is Little-Viking for Baby Cat.
Bay Dat was busy catching my toes through the sheet and killing my dressing-gown cord – she had just driven Shaun out of the bed squealing with pain having done the same to him – when a little mouse ran across our bedroom floor.
Put her on the floor, I said to Shaun, so she can do something useful.
So Bay Dat went under the wardrobe, washed her face for a while, then came out and caught her tail.
Meanwhile, in the tree beyond our window box, the two parent wood pigeons (you remember?) faff about tending what appears, as far as we can see, to be a completely empty and pointless nest.
Some animals are just useless.
Then Shaun came back from his shower saying that, apparently, my father's carer has just told him, he missed one of the hens when he shut them away last night. Only six came out of the hen-house this morning.
Did the fox miss it too?
Sadly not.
There is a white wing on the lawn.
A few minutes later the carer knocked on my door and said could I help, please? There is a small mouse on the stairs and she wanted to remove it before the guests saw it, but it's still alive and she can't do that.
Small mouse humanely dispatched; remains of white wing removed; all safe for hen party of fourteen, who have paid vast amount to use our house for their special weekend, to go downstairs and enjoy the garden in the rain without coming across a mouse on the stairs. Quick or dead. Or half-way betwixt the two.
Not that this would have spooked them: they're all very sensible Cambridge vets. Hen party of two weeks ago would have run squealing to the European Commission for Human Rights and sued us for life-long trauma if they'd so much as seen a beetle at the bottom of the garden.
And Bink?
How does this relate to her?
It's the doing-versus-being, isn't it.
Our cats don't really earn their place in the household.
Sit and look pretty.
Horatio certainly doesn't. Just makes us all laugh, and love him.
Week ago, Bink was home, spent the day playing with our cleaner's little boy. That evening, exhausted. Eleven hours, she said, without a ciggie.
Being. Not really doing, much.
It's the Little Viking's second birthday party today.
Bink isn't going to make it.
Rang Serena yesterday. Had to be forty-eight hours off substances, Serena agreed with her, and she hadn't been.
But don't, she said to Serena, relax the rules for me.
I expend a lot of energy hoping, praying, trying to persuade Bink into any kind of useful activity. A job, I say, any voluntary activity even, would solve so many of your issues.
But that's not all there is to life.
Bink is still with the living. With us. Being.
Not doing.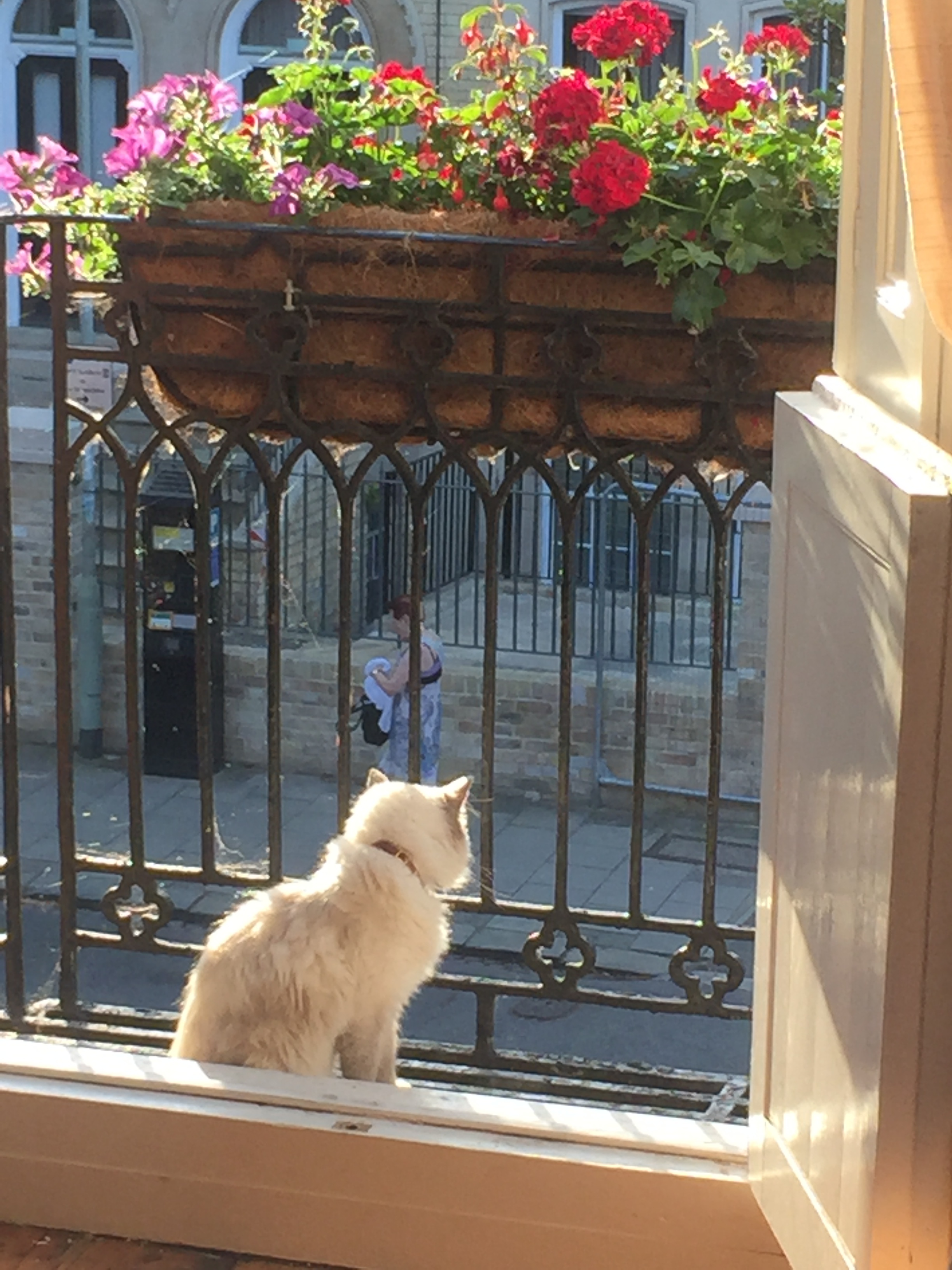 (That little mouse has just run across my floor again. Three more times, back and forth.
Where are those blasted cats?)