August Bank Holiday 2019
Half a year ago, someone requested to book our house for the August bank holiday weekend… Wanted the whole house with none of us in it. This requires some dithering: is it worth any amount of money, even with neither of us earning, to be kicked out of our own home? And what about leaving my father with only his carer to talk to, and no Greek lessons to give me? While I dithered overnight she booked somewhere else and I felt guilty for the next six months…
Until the Vikings said they could come home for the weekend and the lovely weather person said it would be the hottest on record – along with all the other hottests on record – and several other groups at the very, very last minute said could they book our home instead (Muslim extended family: can you get rid of all your dogs? A dozen Italians: can we bring a load more dogs?) and Serena laughingly said if you keep doing what you did last time – accept two football teams to stay just as we're getting on the train to come home because there are no paying guests in the house – I might stop coming home; and we had a glorious, glorious weekend with no one in our home and garden except about ten members of our own family and two dozen neighbours round for an endless succession of cream teas and salad lunches and barbecued evenings.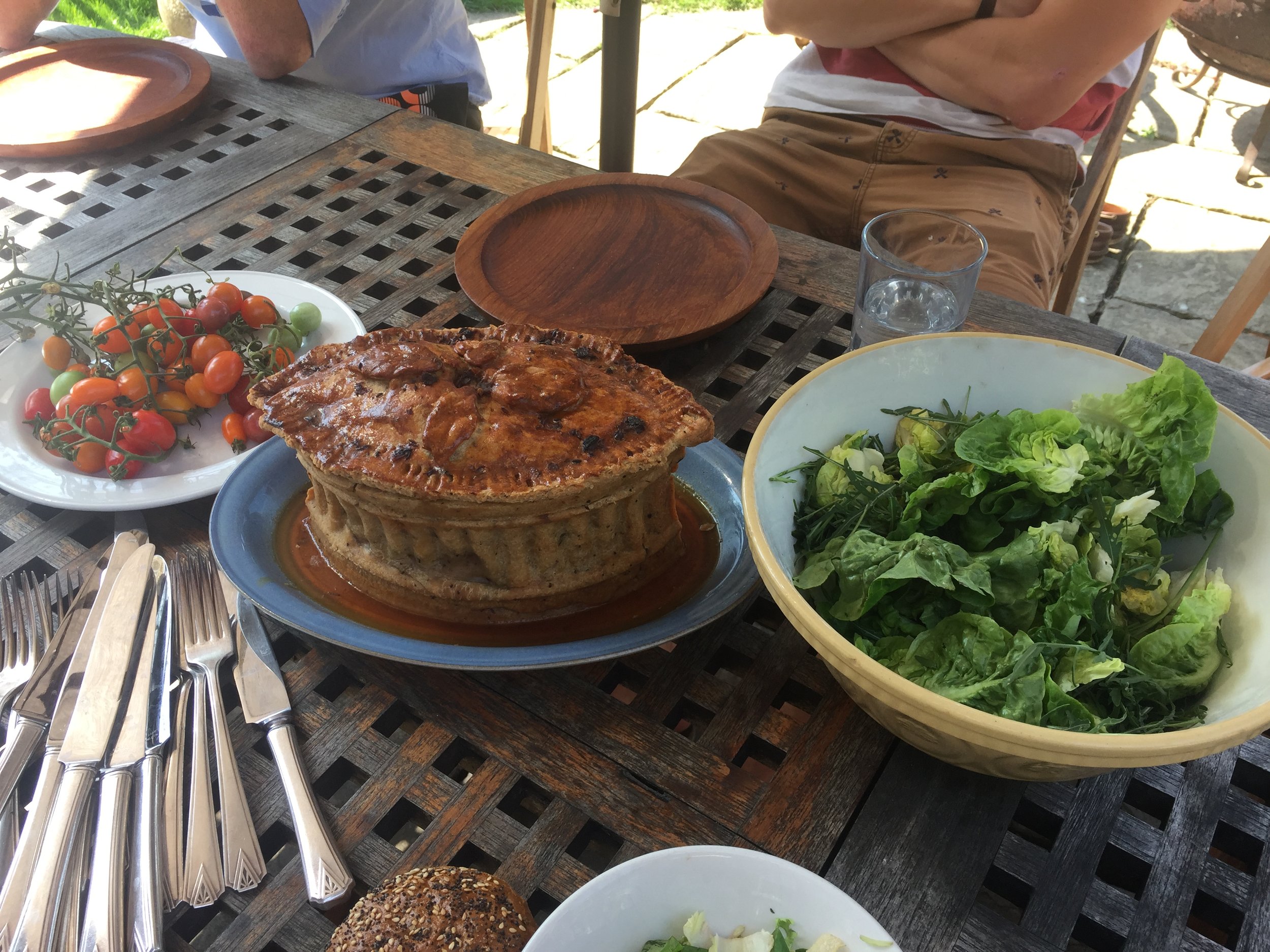 And guess who turned up late on Friday evening and is still here?
That's right: Arn Bin.
Arn Bin! screams the Little Viking delightedly.
Hello Little Viking! says Arn Bin.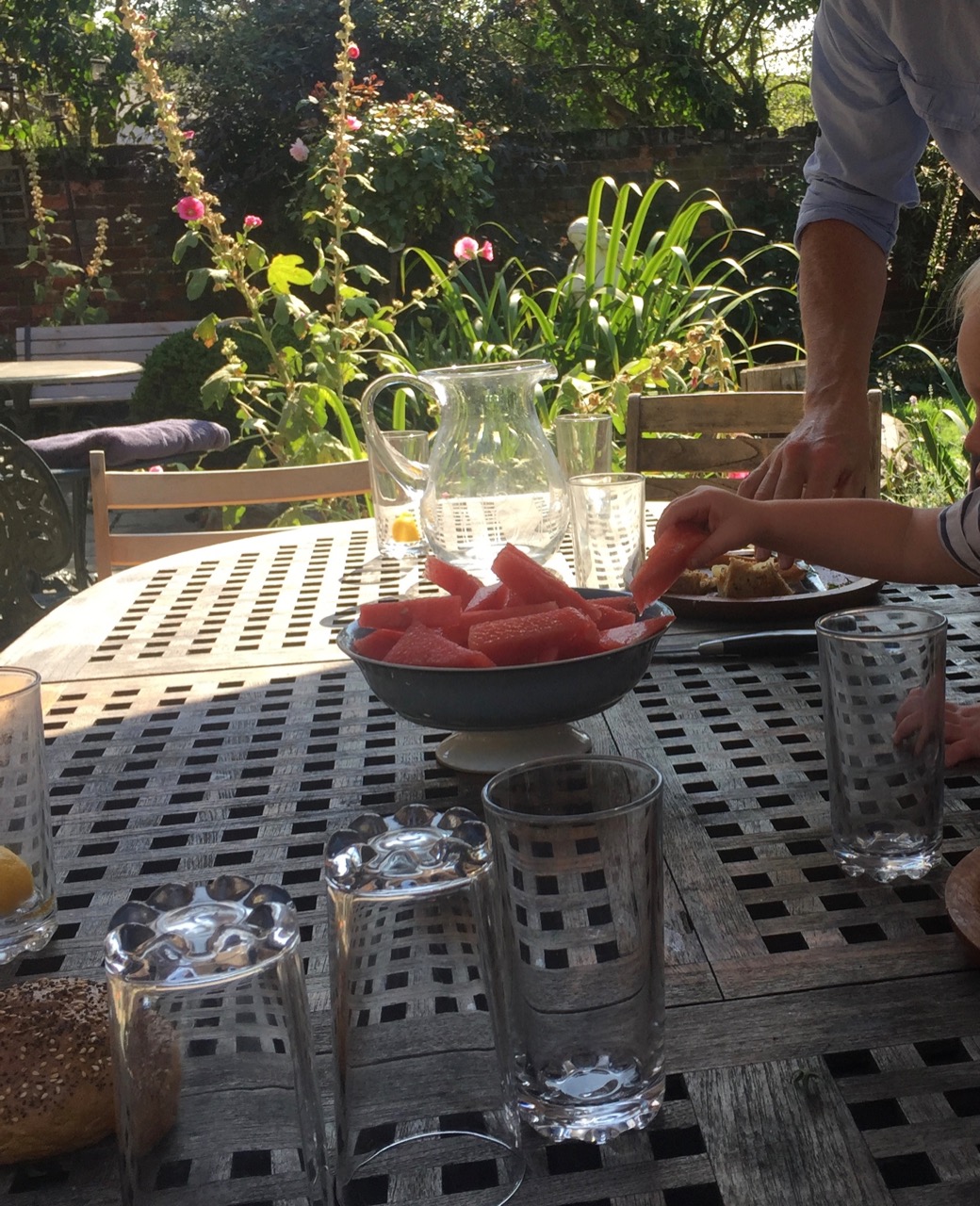 (I should perhaps explain at this juncture that Ben and the little Viking have a thing going… as well as seeing who can eat all the water melon before the other.
Ben has most shrewdly observed a recent trend in hair fashion amongst the great and the good: specifically, the Prime Minister appears to be modelling his topknot on the Little Viking's own you'd-think-inimitable style.
The similarity, once spotted, strikes one as almost uncanny.
Thus: Boris! shouts Ben, every time he sees the Little Viking.
Now, you would think – given that we all learn to be who we are, and particularly how to negotiate the complex management of language, by slavish imitation of our elders and (we hope) betters; and given the Little Viking's tender years – the natural answer to this would be an equally loud: Boris! back.
Not a bit of it. Serena has trained her Little Viking to respond to this insult with the only insult she can think of even more offensive than being called, Boris.
So when Ben calls the LV: Boris! The LV shouts back, even more loudly and joyfully:
Nigel!
It is not an exchange to be witnessed by the politically sensitive.
So loud it is, that when Serena and I went looking for the missing French Maran hen in the nearby streets and gardens the other night, who had flown away after the fox had removed the head of her best friend and she decided she'd rather decline this service for herself, all we could hear echoing throughout the neighbourhood was the strange tribal cry:
Boris!!!
NIDELL!!!!!
I can't quite remember why I mentioned all this… It somehow seemed relevant at the time.)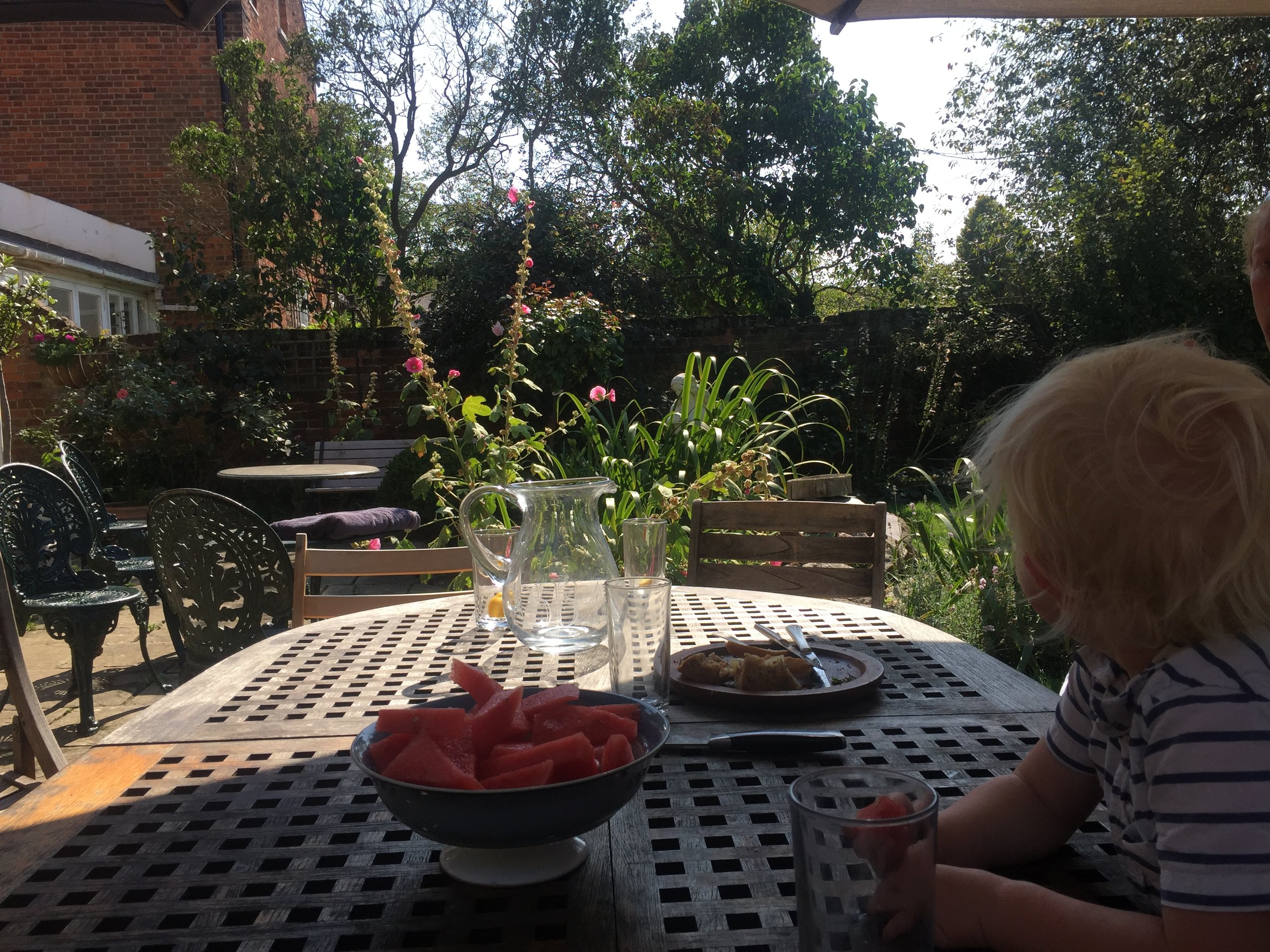 Anyway, the point of all this is that we had a family weekend at home.
Including Arn Bin.
Who is still here.
And as far as I can make out – I don't like to enquire too closely, in case it frightens her into going away again – staying until Friday, which is when I had rescheduled her appointment with the shrink who is keeping her in the Lorazepam she shouldn't be taking.
In order that she can then return and look after the LV for the whole of next week.


Sadly, poor little Bink is poorly. Lying all yesterday in a darkened room with a fan going, we suspect with heatstroke. And sleeping in the conservatory last night and still now, because her room in the roof is too hot.
It is hard to convey the relief I feel, when Bink has a physical illness.
It somehow lulls me into thinking how easy it could be, to care for someone merely suffering from a spot of the sun.